Techno Kids - Stack A Peg Super Set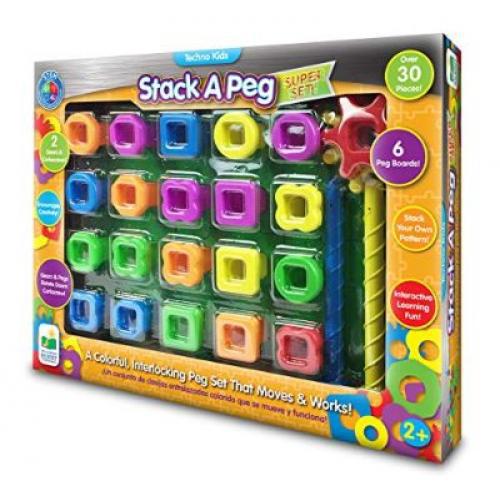 Techno Kids - Stack A Peg Super Set
Let your budding builder experiment in simple mechanics with the Techno Kids Stack A Peg Super Set.
Your little engineer will enjoy hours of screen-free play with this fine-motor skill STEM stacking game. Stack A Peg Super Set lets kids build their own sorting and stacking educational toy and provides additional learning fun with different activities that are printed on the puzzle-shaped base plates. Fine-tune motor skills and encourage creativity with this colourful hands-on preschool building toy. Introduce your future architect to the Stack A Peg Super Set for fun interactive learning through play!
Are you looking for a developmental toy that encourages creativity and has multiple play value? Seeking a SAFE tactile toy with frustration-free packaging? Want a toddler STEM learning toy that introduces the basics of movement and mechanics for your budding builder? Then the Stack A Peg Super Set is the perfect gift for your future engineer! T
This sorting and stacking peg set is excellent for both boys and girls!
Includes: 6 base plates with printed activities, 2 corkscrews, 2 gears, and 20 colourful stacking pegs
Recommended for 2 years +