Race to the Treasure! Cooperative Game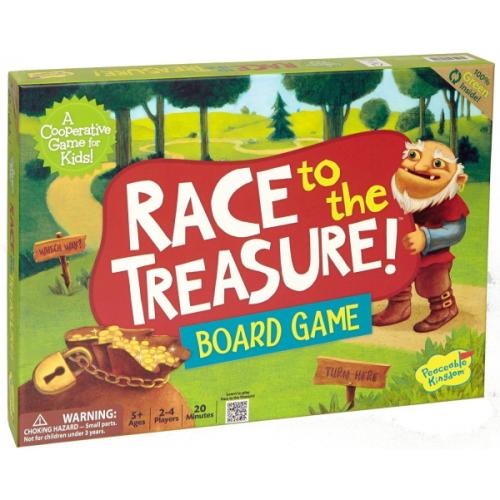 Race to the Treasure! Cooperative Game
In Peaceable Kingdom's Race to the Treasure, game players try to beat the Ogre to the treasure by creating a path from Start to End.
Players strategise, co-operate and build a path together. Along the way they need to collect three keys to open the treasure, if they do it before the Ogre gets there, they all win!

This game helps to develop skills of strategy, maths grid concepts, shared decision-making, emotional development as well as cooperation. No reading is required.

In a cooperative game, players work together as a team against the game, not against each other. Cooperative games build community among the players. Kids learn to play together in a respectful and compassionate way.

This co-operative game for toddlers is earth-friendly and socially responsible. Printed with soy based inks on FSC certified paper and include parts made with corn based plastics and without plastic shrink wrap covers.

Game includes 1 game board, 1 pair of dice, 37 game cards, 4 key tokens, 1 Ogre snack and instructions for game play.

2 - 4 players

Recommended Age 5 years +