Lalaboom 48 Piece Set in Zipper Bag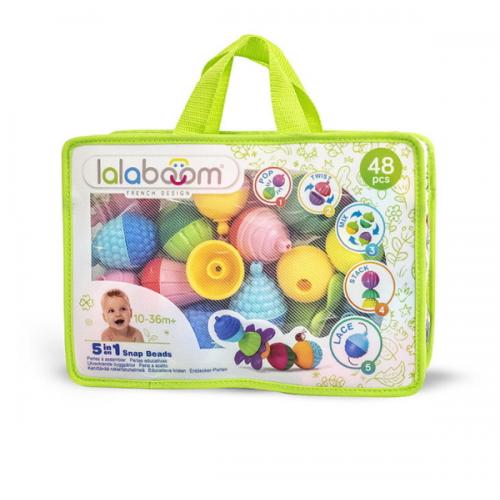 Lalaboom 48 Piece Set in Zipper Bag
Lalaboom is more than a collection of snap-together beads; it's a beautifully innovative developmental experience.
Senses are engaged as little ones explore the unique textures, vibrant colours, and smooth twisting movements.

As children grow, they'll discover endless connecting and stacking possibilities, strengthening creativity, pattern recognition, fine motor, and problem solving skills.

Plus, this set comes with two lacing needles AND beautiful flower pedal attachments for an added dimension of tactile exploration and pretend play!

Complete with 9-way connectors for building in all different directions, the Lalaboom 48 piece Set is truly a never-ending, never-boring, creative-construction adventure that grows with your child.

10 months - Snap the beads together and pop them apart
15 months - Twist them apart and back together
18 months - Mix and match the different colours and textures
20 months - Stack them and balance them, one on top of the other
24 months - Use the included lacing needles to lace them together like real beads on a necklace
Recommended Age 10mths +